The Invisalign system also is known as clear aligner treatment, is an orthodontic device that is a transparent, plastic form of invisible braces used to adjust teeth. Invisalign is a type of orthodontic treatment that helps to straighten teeth without the help of metal braces but using aligners. Aligners are removable and virtually invisible, which means a braces specialist can straighten your teeth without anyone knowing; and you can eat and drink what you want. Also, you can brush and floss normally to maintain proper oral health during treatment; and there are no wires, metal, or brackets cutting your mouth.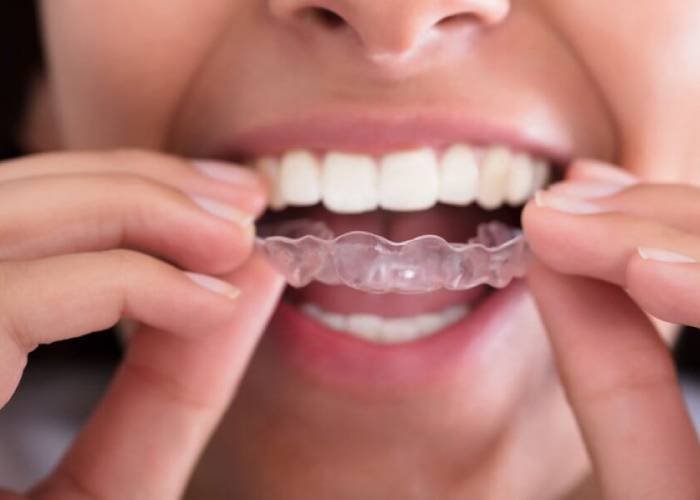 What is Invisalign?
The Invisalign system is a virtually invisible treatment that uses an innovative and invisible approach to effectively straighten your teeth without braces.
Series of custom-made clear removable aligners made with unique SmartForce technology, the Invisalign system gradually shifts your teeth into the proper position.
Uses no metal wires or brackets
Custom-made for comfort
Advantages:
They can correct a variety of imperfections. It can treat cases from minor teeth straightening to moderate malocclusions.
They are removable so it is easier to maintain oral health during treatment.
The Aligners are thin, transparent, and are very comfortable to wear.
They require no food restrictions unlike metal braces
Invisalign treatment gives you visible results from the first month of treatment
They are easily removable so you have the freedom to eat and drink whatever you like
They have a relatively short treatment time.
How does Invisalign works?
In the first appointment, the Invisalign-trained orthodontist will take X-rays, photos, and dental impressions to create a treatment plan.
The Invisalign provider will then use these records and create a customized 3D treatment plan. With this treatment plan, you can know the final position of your teeth that are predicted to reach
The customized aligners will be manufactured and shipped to your Orthodontist's office.
Series of custom-made aligners will be given to you, wear each set of aligners for about 2 weeks. Remove only to eat, drink and floss.
Your teeth will move gradually each week
You will visit your Braces specialist doctor approximately every 6-8 weeks to monitor your progress and receive the next series of aligners.
Total treatment time averages 6-15 months.
After you have finished your treatment, maintain your new smile with the use of retainers.