When upper and lower jaw teeth cannot meet together, then this is called a bad bite or 'malocclusion'. A good bite is important for overall oral health. Below are some of The Different Types of Bites problems that are found in children and adults.
1. Gapped teeth
Teeth spaces are seen when you have a mismatch of the teeth size and jaw size. The spaces between the teeth can be manifested by just gaps between teeth or by protruding teeth. This problem affects self-confidence while Smiling as one feels their teeth are out.
The gaps between the teeth also increase with age and should be corrected as early as they are Noticed. The most common problem due to gaps between teeth is food Lodgement leading to swollen gums and bad oral hygiene.
2. Cross bites
crossbite occurs when the upper and lower jaws are both misaligned. It usually causes one or more teeth to be on the inside of the lower teeth and can happen on both the front and or the sides of the mouth. Crossbite is a major functional problem and should be corrected as early as detected.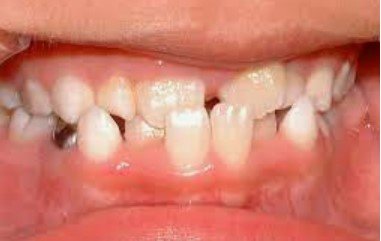 There are removable appliances that can help solve crossbites in as early as 7 years age group. After the permanent teeth have come, braces are used to correct the crossbite. Crossbite can also lead to facial asymmetry which can be socially not acceptable. Crossbite also leads to chewing food issues and leading to indigestion.
3. Crowded teeth
lack of space in the jaw for your teeth to fit properly. They can overlap and twist and be pushed to the front or back. The most commonly found malocclusion is crowded teeth. It leads to a lot of food lodgement between crowded teeth, which eventually causes plaque and tartar accumulation.
Crowding in teeth can be resolved by creating Space with the help of braces and should be done as early as detected.
4, Deep bite
excessive overlapping of upper and lower front teeth causes significant tooth damage. This condition is noticed more Commonly noticed in Adults who Come with the chief complaint of wearing lower front teeth. Attrition of teeth edges causes immense sensitivity to normal food items and this only worsens with time.
Deep bites are addressed with the help of orthodontics and should be treated as they can lead to Major TMJ problems.
5. Underbites
it occurs when the lower teeth protrude past the front teeth, usually caused by undergrowth of the upper jaw, overgrowth of the lower jaw or both. This condition also causes vertical space between. Upper and lower teeth on biting. The patient is unable To bite from Front teeth at all due to the non-closure Of Front Teeth.
There is the lisping of words, dry mouth due to breathing from mouth, poor oral hygiene, and snoring In the night.
Openbite or underbite is a very issue and should be treated immediately.
If you are or closet one facing a bad bite problem, It's advisable to consult an orthodontist. Braces and smile dental clinic offers the best orthodontic treatment in Pune to correct bad bites.
Our Service On Locations: Kalyani Nagar, Hadapsar, Koregaon Park, Wadgaon Sheri, and Viman Nagar.
Call Now: +919168687879
Find the clinic here: Get direction
Contact Details
Fortaleza Complex, 218 & 219, 1st floor, Victoria 1, above Kalyani Veg restaurant, opposite Gold Adlabs Mariplex Mall, Kalyani Nagar, Pune, Maharashtra 411014